Home State Bank's Minuteman Online Banking system gives the convenience of banking 24 hours a day, 7 days a week. The Minuteman system allows access to account and product information. Among the many convenient features are:
Bill Payment

Deposit and loan account information

Transfer funds between accounts 

Detail transaction listing

Product information 

Payments to loan accounts 

Setup recurring transfers 

Deposits to Higher Learning CD's 

Stop payment requests 

View front/back images of paid checks

View a range of transactions

Download Transactions to: 
Quicken (QFX) Microsoft Money (QFX)
QuickBooks (IIF) Personal Finance (QIF)
Spreadsheet (CSV) Word Processing (TXT) 


Whether you're a first time visitor, or a frequent Internet user, we're sure you will find our internet banking service an easy and convenient way to have access to your bank accounts 24-hours a day, 7 days a week. Sign up for Online Banking by enrolling now.

For more information on Business Online Banking click here .
If you have already signed up and agreed to the terms, you may start banking now .
For additional information on any of Home State Bank's Commercial Electronic Banking Services or Telephone ACH Origination, please contact the Electronic Banking Manager at (815) 459-2000, extension 482 or e-mail us at support@homestateonline.com .
Mobile Banking
Bank 24/7 With Our New Mobile App
Banking just got easier and more convenient with the new Home State Bank App for your smart phone*. Scan the code for free download and get quick, secure access to your accounts wherever you are:
Check Balances

Pay Bills**

Transfer Funds**

Locate the nearest HSB ATM or banking center
Enjoy the convenience of banking with the HSB Mobile App - it's another reason why Home State Bank is on your side!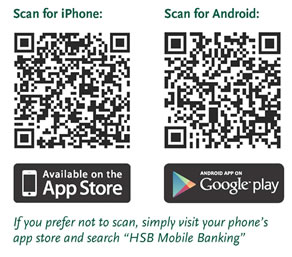 *Please refer to your phone service provider for any fees that may apply.
**Set up online transfer and bill pay accounts prior to installing the Application. Our Personal Banking Counselors can help.

Mobile Check Deposit

Deposit Checks Anytime, from Anywhere!


We know how busy life can get, and depositing checks might be the last thing on your to-do list. We created Mobile Check Deposit with you in mind, taking the hassle out of depositing checks.
If you have a smartphone or camera-equipped tablet*, you are just a few steps away from being able to deposit checks when you want, where you want.
1. Simply visit your phone's app store* and search for "HSB Mobile Banking".
2. Open the app on your device, sign in, and key in the deposit amount.
3. Endorse your checks and take pictures with phone as directed.
4. Submit!
You'll see confirmation that the deposit was received. Imagine the time you'll save; it can't get any easier than this!

Mobile Check Deposit is:
Fast - Submit deposits and receive confirmation.

Convenient – Deposit checks anywhere, anytime.

Secure – Log-in security and data encryption ensures your information is safe.

Accurate – When capturing images, our application automatically extracts payment data.

Easy – Just download the app and get started with our simple to follow instructions.
Mobile Check Deposit is Convenient and a Game Changer!


Stop by to see a Personal Banking Counselor today!

(815) 459-2000
*Apps are available for iPhone® and Android™ devices. Must be at least Version 2.0. To be eligible for Mobile Check Deposit, you must be a Home State Bank Online Banking Customer. Your mobile carrier may charge access fees depending upon the personal plan you have. Restrictions Apply.